Google Photos Updated With New Interface, Map View, Icon And Memory Section
Google Photos Updated With New Interface, Map view, Icon, and Memory section.
Google photos is a photo sharing and storage service developed by Google. With Google photos, all of your images and videos are automatically organized and can be shared easily.
Five years ago, Google designed Google photos to solve the problems of the people who are struggling to manage their photos and videos. More than one billion people use this app each month. But more than an app, it has become the home of your life's memories.
Now, Google photos get a major new redesign with a new simple interface, including a Map view, new Icon, and memory section, to help you find and relive your most treasured moments.
A new, simplified experience
In the redesigned Google Photos, your photos and videos become more prominent and bring the search front and center with a new three-tab structure:
Photos:
Now you'll see larger thumbnails, auto-playing videos, and less white space between photos. At the top you will also notice a larger Memories carousel.
Search:
Search has become increasingly important. The search front and center feature will give you quick access to the people, places, and things most important to you.
Library:
The library tab contains the most important destinations in your photo library, like Albums, Favorites, Trash, Archive and more. You'll also see the Print Store, where you can purchase printed products featuring your photos.
A Map view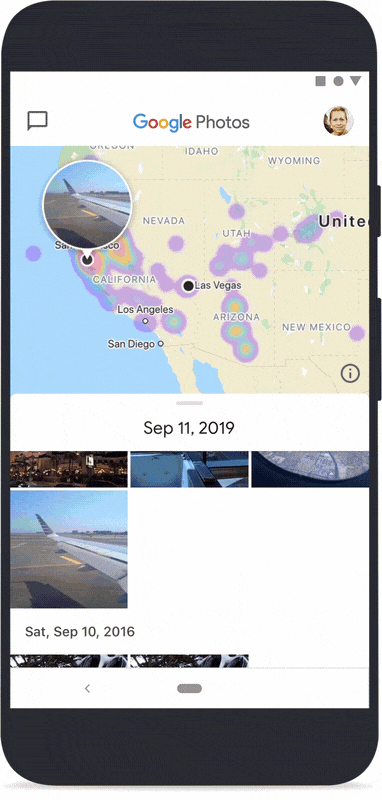 You will see an interactive map view of your photos and videos. You can pinch and zoom around the globe to explore photos of your travels, see where you've taken the most photos around your hometown, or find that one photo from somewhere on your road trip across the country.
If you enable location from your device camera, Location History, or manually add locations, those photos have always been organized and searchable by place in Google Photos.
Memories
Google introduced Memories to help you revisit your most important memories from past years. It's become one of the most beloved features, with more than 120 million people viewing Memories every month.
Adding more types of Memories, like the best pics of you and your closest friends and family over the years, trips, and even just the highlights from last week.
Get refresh icon
Google Photos also gets a new icon. The pinwheel shape remains, but it's a more simplified and smoother version of the earlier logo. Google says that both Android and iOS users should get the update in a week's time.